All repairs are taken on the understanding of a 'no fix no fee' basis and will vary from
£45.00
plus VAT.

All Apple and third party equipment can be repaired.

Turn-around times vary from one hour to one week.

We also offer maintenance contracts, on both software and hardware.




Data Recovery from
£45.00
plus VAT, clean rooms available if necessary.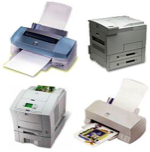 Nasty smear or just having problems with your printer?

We have great success resolving many printer problems and can repair faults with laser and ink-jet printers of all manufacturers.

From
£55.00
plus VAT on-site.